Hotel Tomislavov dom***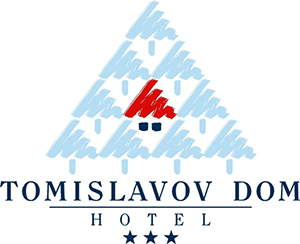 Hotel Tomislavov dom is located in the heart of the Medvednica Nature Park on Sljeme, the highest part of Medvednica, only 20 minutes away from the center of Zagreb. The exiting history of the hotel Tomislavov dom started back in 1877, and today's exterior (a flying swallow) is the work of the architect Stjepan Planić, whose drawing was used for the building of the hotel in 1935.
The latest thorough internal renovation of the hotel was carried out in 2003.
General information:
4 floors / 2 elevators
42 rooms (11 single rooms, 15 double/twin standard rooms and 16 double/twin comfort rooms)
Within the hotel:
Reception 0/24
Currency exchange
Restaurant Tomislav with beautiful terraces
Aperitif bar
Internet corner
3 conference halls with daylight
Internal swimming pool
Mini wellness
Mini children's corner
Pets (extra charge)
Near the hotel:
Hiking trails
-
countless hiking trails are located on Medvednica, and on weekends, as well on weekdays numerous hikers and other people looking for recreation walk on them
Enduro bicycle trail is only 300 m away from the hotel – only for the bravest
Ski slopes
and lifts are a 10-minute walk away from the hotel
TV tower
Zrinski
mine – once precious galenite ore and lead glance, which contains silver, were produced in this mine. Nowadays it is open for visitors.
Mountain lodges and restaurants which help us to make the stay of our guests complete:
"Kućica"
,
"Vidikovac"
,
"Zlatni Medvjed"
and
"Grofica"